Posts filed under 'Smokers Receptacles'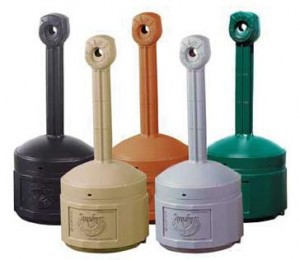 Have you ever taken a look at the ground around public places? Our cities and shopping plazas are becoming litter areas for smokers who can no longer smoke indoors due to all the various laws and restrictions to do so. Instead these laws are forcing smokers to smoke outside. America can pass all the laws it wants to against the persecuted smoker but they will still smoke. Since these smokers must now smoke outside of public stores, restaurants, and businesses we as a nation are facing a huge litter problem. Unless the establishment puts out a cigarette receptacle the smokers ash and butts end up on the ground. These butts then get washed into our sewers or stay where they land for an extremely long time due to the fact they decompose so slowly.
The Mayor of a small Kentucky town got tired of seeing all the cigarette butts littering his streets so he decided to count them to assess the impact this litter has. When he was done he had counted thousands in just over a 2 week period. He also observed smokers and concluded that a large majority of smokers that have a place to dispose of their spent butts did the right thing and would use a receptacle if one was present. If none was available of course it got thrown to the ground. He brought this information to the powers that be and was able to clear a grant for his city to purchase enough cigarette receptacles to place around town allowing smokers a place to dispose of their cigarette butts. After having supplied his town with enough cigarette receptacles he began to walk around town counting again. He was amazed that the litter problem was reduced by over 2 thirds. He is now an advocate for getting the word out to other small and large cities emphasizing the importance of giving smokers a place to dispose of their cigarette and cigar waste.
Just imagine the impact we could make to clean up our streets with just a simple remedy. The larger the city the bigger the result can be. In today's world where recycling has become a way of life and such an important facet to secure the health of our planet for all of those that come after us, being able to cut down on this kind of litter can make such a huge difference. With all the products out there designed to contain smokers waste its just so simple to provide these smokers with a means to keep America Beautiful. By providing a cigarette and ash receptacle outside businesses and public places we as a nation are helping to keep are streets and parks clean ensuring a healthier planet for all of us!
You can view all of our cigarette receptacles by following the link below.
http://trashcansunlimited.com/cigarette-receptacles/
If you would like more info on our products you can visit us at TrashcansUnlimited.com.