Posts filed under 'Park Trash Can'
Choosing the Right Indoor Trash Cans for your Business
Indoor trash cans are more than trash receptacles. They add to your overall office decor theme, so it's important to keep an eye on your design ascetics to create a cohesive overall look. Identify where your biggest trash can needs are throughout the office. Ideal locations include larger communal trash cans in the break room and kitchen, individual trash cans for each office, and meeting room trash cans.
Consider smell reducing designs, such as trash cans that have lids with dome tops or other ways of mitigating smells, for trash cans that get a large amount of food waste. The trash cans at the desks get paper waste, snack wrappers, and other generally smell-free objects so it's less of an issue here. Once you have your garbage cans set up, make sure your janitorial staff empties them on a regular basis so employees are encouraged to keep up on their cleanliness.
Choosing the Right Outdoor Trash Cans for your Business
Your focus for outdoor trash cans is more on utility than appearance, although you still want your trash cans to promote your overall business look and theme. Put trash cans by any entrances and exits, especially if you have customers coming into a storefront business. When you encourage customers to dump their trash from a food court or another business before coming into your store, you don't worry about trash strewn around that may not get discovered until much later.
 Outdoor ashtrays are another necessary component to your overall commercial trash can needs, as there's nothing that gives more of a negative impression than your front door surrounded by cigarette butts. Focus on more durable materials for your outside trash receptacles so they stand up to high use and the elements.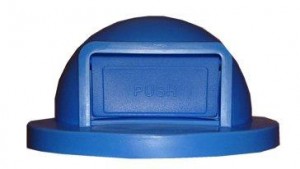 These dome top push door lids are perfect for cities, municipalities, and parks. They are available in 11 different colors allowing you to customize to match your surroundings so they blend in or stand out and attract attention in order to make sure they get used. The tight fit on the swinging door keeps out bees and animals. There are no springs or hinges to rust or wear out. Bottom measures 24.81 in.

There are also 5 lid styles to choose from depending on your needs. You can choose from dome top lid with swing door, a flat top recycling lid with a 4 inch opening for collecting bottles and cans,  flat top with 10 inch opening for trash, a bee resistor lid with with self closing flip door to keep bees and flies from entering the receptacle making it safer for everyone, and a two way open dome top.
These lids are proudly made in the USA and are made from 100% recyclable plastic to help the environment. They can also be sprayed with a clear coat of anti graffiti spray to keep the pranksters at bay while also giving the lids a high sheen to make them even more attractive.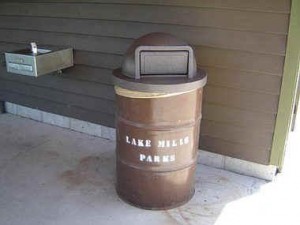 We work with a few cities who have developed programs for youth organizations to stencil 55 gallon drums in a variety of colors and designs to place around town to promote recycling as well as deterring littering and then use a variety of our colored lids to attract people to use them. Enlist your city or town to do the same and help keep America beautiful.
http://woodtowonderful.org/canit.htm
You can view all of our Trash Can Lids by following the link below.
http://trashcansunlimited.com/kolor-can-plastic/
http://trashcansunlimited.com/trash-can-lids/
If you would like more info on our products you can visit us at TrashcansUnlimited.com.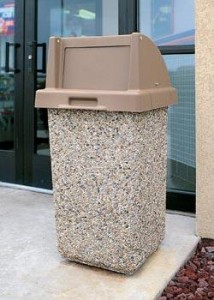 Exposed Aggregate Concrete Trash Cans are a great alternative to metal or plastic outdoor waste receptacles. With concrete you can add that decorative touch and still achieve your waste containment needs. Best of all concrete will last an extremely long time while still holding its visual appeal. Metal can rust while plastic can crack or fade. High capacity concrete trash cans stay where you put them. Most weigh 200lbs or more. This is a very real and important aspect. The last thing you want is some vandal stealing your trash container. Thus concrete waste receptacles are highly theft proof. Not even the toughest strong man is going to just pick it up and walk off with it. Most of them also include a lid cable to attach the lid to the container also preventing theft of the lid.
When choosing a concrete trash can there are a few options to consider. First of all theirs the finish. You can opt for the most popular which is exposed aggregate or a more contemporary textured weatherstone look, both of which are available in a variety of choices to match any decor. Exposed aggregate is what you will mostly find at various businesses or park settings. They consist of a pebbled rough surface. Weatherstone's textured finish gives the trash container a slightly more decorative appeal. Another thing to consider is if you would like a rigid plastic liner for the inside of the unit. Most of the receptacles include a bag fix system allowing the user to use normal trash bags to hold the garbage. If you opt for the plastic liner all the waste gets thrown into the liner which in turn can be emptied when full. This liner can then be cleaned and replaced back into the waste receptacle for future use. You can also use a trash bag inside the liner preventing the liner from even getting dirty at all.
One last thing to consider is this. You may be thinking that since they are so heavy shipping is just going to kill your wallet. That doesn't have to be the case. Freight can be very reasonable as long as you don't get fooled by some who use the weight of the cans as a way to inflate the shipping costs. So now that you know the basics you can feel positive in the fact that concrete trash cans are a great way to dispose of public refuse while still maintaining visual appeal of the surrounding area.
You can view all of our concrete trash cans by following the link below.
http://trashcansunlimited.com/concrete-receptacles/
If you would like more info on our products you can visit us at TrashcansUnlimited.com.