Archive for
March, 2010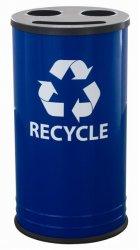 Go Green– Recycling it Right, in Style!
Recycling- "It's come a long way, baby!"
These days, recycling is the right thing to do, and now- you can do the right thing and be stylish doing it. Today, the vast array of recycling products out there can be used to express your style, whether it be classic (sidekick personal recycling container), sleek  (Glaro's Recycling Wastemaster collection), modern (Geocubes Recycling bins) (Metro Collection) (Touchless), or traditional (Rubbermaid Recycling Wastebaskets).
Need to save space? Don't worry; there are plenty of options out there for the space-challenged. Stack it up (Stackable Recycling Bins), utilize that corner (Kaleidoscope Collection), double up (Glaro's 2 in 1 Dual Purpose Wastemaster Collection), or triple it (3 in 1 Combination Recycling).
Are you Going Green at the office,  outdoors, or in a Park setting? Don't be blue, if it doesn't match- there are plenty of color options around. From basic blue to forest green, natural tan to crisp white, today's recycling bins come in a variety of colors. Like it shiny? How about gold, silver, or bronze for the corporate look? Protect your clients' privacy by locking up sensitive paper recycling in a secure document container.
Tired of your plastic recycling bin? How about Fiberglass? They won't rust, stain or tarnish. They are temperature stable and can withstand extremes of heat or cold. There are no exposed seams, welds, fasteners or crevices that can collect dirt. There are aluminum, metal, and even concrete options.
So do it right, and do it in style! Don't get hung up on the tired relics from the past- check out your options and Go Green your way!
You can view all of our recycle bins by following the link below.
http://trashcansunlimited.com/recycling-bins/
If you would like more info on our products you can visit us at TrashcansUnlimited.com.