Replacement Trash Bin for Under The Counter Pull Outs
April 28, 2010 at 3:14 pm Trash Cans Unlimited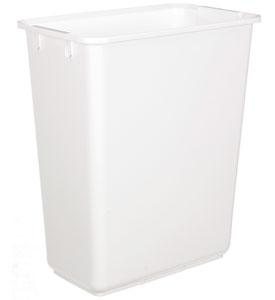 This 30 quart trash bin is perfect for replacing your old and worn out under the counter pull out wastebasket. This hard to find size is a perfect fit for your system if your measurements match. Made from flexible high impact plastic its rugged enough to last for years to come. Measures 15.5in.W x 18in.H x 9.5in.D.
You can view all of our plastic trash cans by following the link below.
http://trashcansunlimited.com/plastic-trash-cans/
If you would like more info on our products you can visit us at TrashcansUnlimited.com.
Entry filed under: Office/Home Wastebaskets, Plastic Trash Cans. Tags: Plastic Trash Cans.