Wooden Wastebaskets
February 8, 2010 at 7:32 pm Trash Cans Unlimited
These wood wastebaskets are perfect for home or office. They are made from real seasoned hardwood and withstand the test of time. Their high quality construction is sure to please. With several color choices you can match your decor while adding a touch of class to your office.
Rectangular Hardwood Wastebasket 13 Quart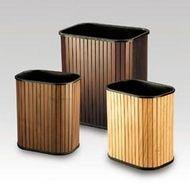 Rectangular Genuine Hardwood Wastebaskets. Tambour design in hand-rubbed finishes. Black polyethylene liner.
13-Quart Capacity
10-3/4w x 8-1/4d x 13h.
Available in 5 Finishes
You can view all of our wood wastebaskets by following the link below.
http://trashcansunlimited.com/wood-trash-cans/
If you would like more info on our products you can visit us at TrashcansUnlimited.com.
Entry filed under: Office/Home Wastebaskets, Wood Trash Cans. Tags: Office/Home Wastebaskets, Wood Trash Cans.