Choosing the Right Indoor Trash Cans for your Business
Indoor trash cans are more than trash receptacles. They add to your overall office decor theme, so it's important to keep an eye on your design ascetics to create a cohesive overall look. Identify where your biggest trash can needs are throughout the office. Ideal locations include larger communal trash cans in the break room and kitchen, individual trash cans for each office, and meeting room trash cans.
Consider smell reducing designs, such as trash cans that have lids with dome tops or other ways of mitigating smells, for trash cans that get a large amount of food waste. The trash cans at the desks get paper waste, snack wrappers, and other generally smell-free objects so it's less of an issue here. Once you have your garbage cans set up, make sure your janitorial staff empties them on a regular basis so employees are encouraged to keep up on their cleanliness.
Choosing the Right Outdoor Trash Cans for your Business
Your focus for outdoor trash cans is more on utility than appearance, although you still want your trash cans to promote your overall business look and theme. Put trash cans by any entrances and exits, especially if you have customers coming into a storefront business. When you encourage customers to dump their trash from a food court or another business before coming into your store, you don't worry about trash strewn around that may not get discovered until much later.
 Outdoor ashtrays are another necessary component to your overall commercial trash can needs, as there's nothing that gives more of a negative impression than your front door surrounded by cigarette butts. Focus on more durable materials for your outside trash receptacles so they stand up to high use and the elements.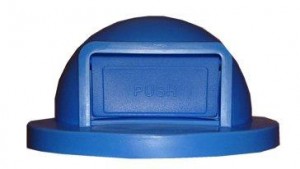 These dome top push door lids are perfect for cities, municipalities, and parks. They are available in 11 different colors allowing you to customize to match your surroundings so they blend in or stand out and attract attention in order to make sure they get used. The tight fit on the swinging door keeps out bees and animals. There are no springs or hinges to rust or wear out. Bottom measures 24.81 in.

There are also 5 lid styles to choose from depending on your needs. You can choose from dome top lid with swing door, a flat top recycling lid with a 4 inch opening for collecting bottles and cans,  flat top with 10 inch opening for trash, a bee resistor lid with with self closing flip door to keep bees and flies from entering the receptacle making it safer for everyone, and a two way open dome top.
These lids are proudly made in the USA and are made from 100% recyclable plastic to help the environment. They can also be sprayed with a clear coat of anti graffiti spray to keep the pranksters at bay while also giving the lids a high sheen to make them even more attractive.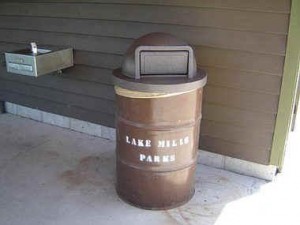 We work with a few cities who have developed programs for youth organizations to stencil 55 gallon drums in a variety of colors and designs to place around town to promote recycling as well as deterring littering and then use a variety of our colored lids to attract people to use them. Enlist your city or town to do the same and help keep America beautiful.
http://woodtowonderful.org/canit.htm
You can view all of our Trash Can Lids by following the link below.
http://trashcansunlimited.com/kolor-can-plastic/
http://trashcansunlimited.com/trash-can-lids/
If you would like more info on our products you can visit us at TrashcansUnlimited.com.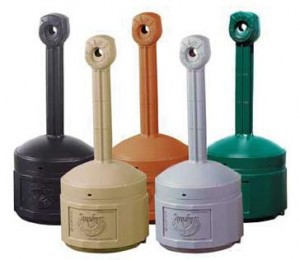 Have you ever taken a look at the ground around public places? Our cities and shopping plazas are becoming litter areas for smokers who can no longer smoke indoors due to all the various laws and restrictions to do so. Instead these laws are forcing smokers to smoke outside. America can pass all the laws it wants to against the persecuted smoker but they will still smoke. Since these smokers must now smoke outside of public stores, restaurants, and businesses we as a nation are facing a huge litter problem. Unless the establishment puts out a cigarette receptacle the smokers ash and butts end up on the ground. These butts then get washed into our sewers or stay where they land for an extremely long time due to the fact they decompose so slowly.
The Mayor of a small Kentucky town got tired of seeing all the cigarette butts littering his streets so he decided to count them to assess the impact this litter has. When he was done he had counted thousands in just over a 2 week period. He also observed smokers and concluded that a large majority of smokers that have a place to dispose of their spent butts did the right thing and would use a receptacle if one was present. If none was available of course it got thrown to the ground. He brought this information to the powers that be and was able to clear a grant for his city to purchase enough cigarette receptacles to place around town allowing smokers a place to dispose of their cigarette butts. After having supplied his town with enough cigarette receptacles he began to walk around town counting again. He was amazed that the litter problem was reduced by over 2 thirds. He is now an advocate for getting the word out to other small and large cities emphasizing the importance of giving smokers a place to dispose of their cigarette and cigar waste.
Just imagine the impact we could make to clean up our streets with just a simple remedy. The larger the city the bigger the result can be. In today's world where recycling has become a way of life and such an important facet to secure the health of our planet for all of those that come after us, being able to cut down on this kind of litter can make such a huge difference. With all the products out there designed to contain smokers waste its just so simple to provide these smokers with a means to keep America Beautiful. By providing a cigarette and ash receptacle outside businesses and public places we as a nation are helping to keep are streets and parks clean ensuring a healthier planet for all of us!
You can view all of our cigarette receptacles by following the link below.
http://trashcansunlimited.com/cigarette-receptacles/
If you would like more info on our products you can visit us at TrashcansUnlimited.com.